Debonairs Pizza

Shell UC N2 Butterworth
Featured Products
Sweet Chilli Chicken

Enjoy our delicious and spicy Sweet Chilli Chicken pizza from just R39.90. Get it in small, medium or large.

Speciality Pizza

Try our amazing pizza innovations! Try the Triple-Decker®, Crammed-Crust®, or go all out with the Cram-Decker™!

Choose Your Base

Enjoy your fave pizza, your way. Customise your pizza base! You can Double-Stack® it, get a Crammed-Crust®, make it Thin & Crispy or choose SlimFit for a healthier option

Sides

Try an amazing side with your pizza! Get Death By Chocolate, BBQ Chicken Wings, Cocktail Cheese Grillers, a Cheese & Garlic Ripper or our NEW Cheese & Garlic Focaccia.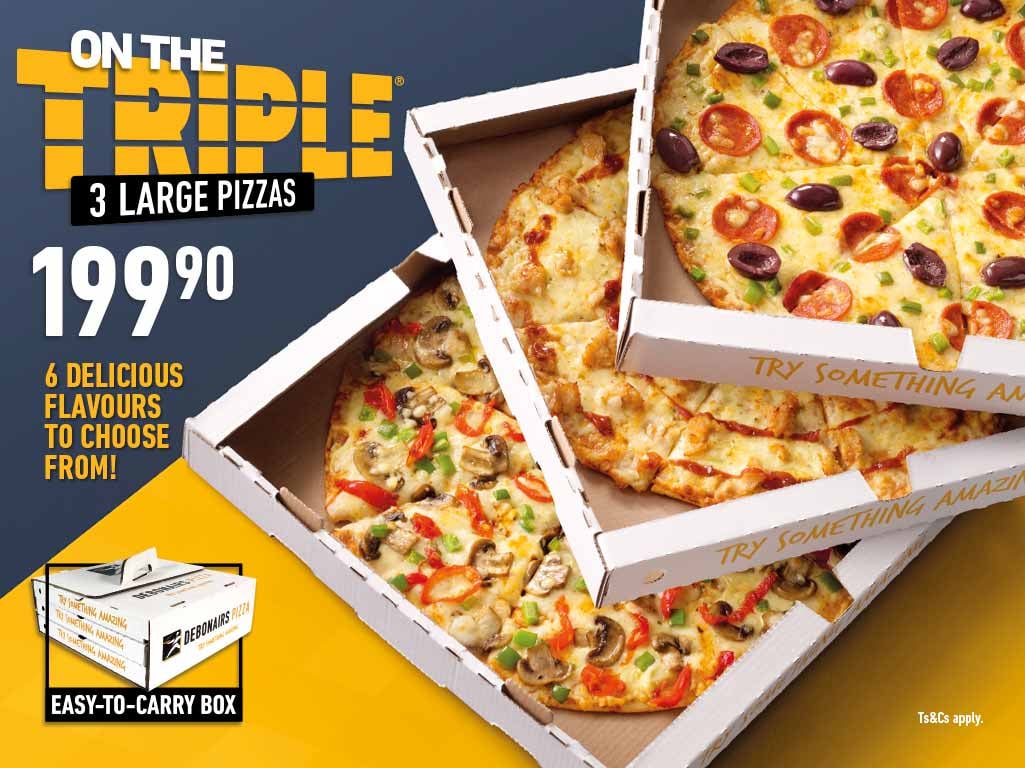 On The Triple®
Keep the O.T.T. vibes going way past the holidays! Get the over the top On The Triple® and get 3 large pizzas for just R199.90. This affordable pizza special has 6 flavours to choose from. Order online now and get a safe, no-contact pizza delivery.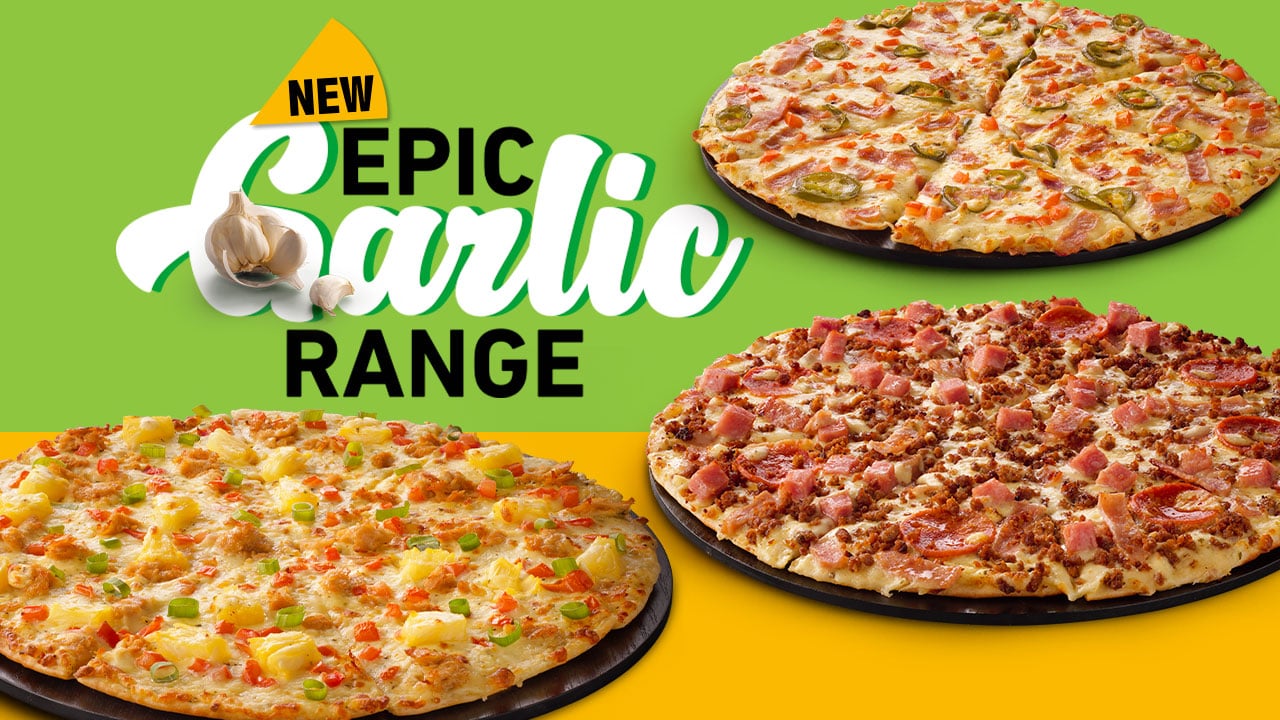 NEW Epic Garlic Range
We've created something amazing that you'll love! Introducing our NEW Epic Garlic Range. It's our delicious pizza base with a flavourful garlic spread! There are four amazing flavours to choose from. Try it today!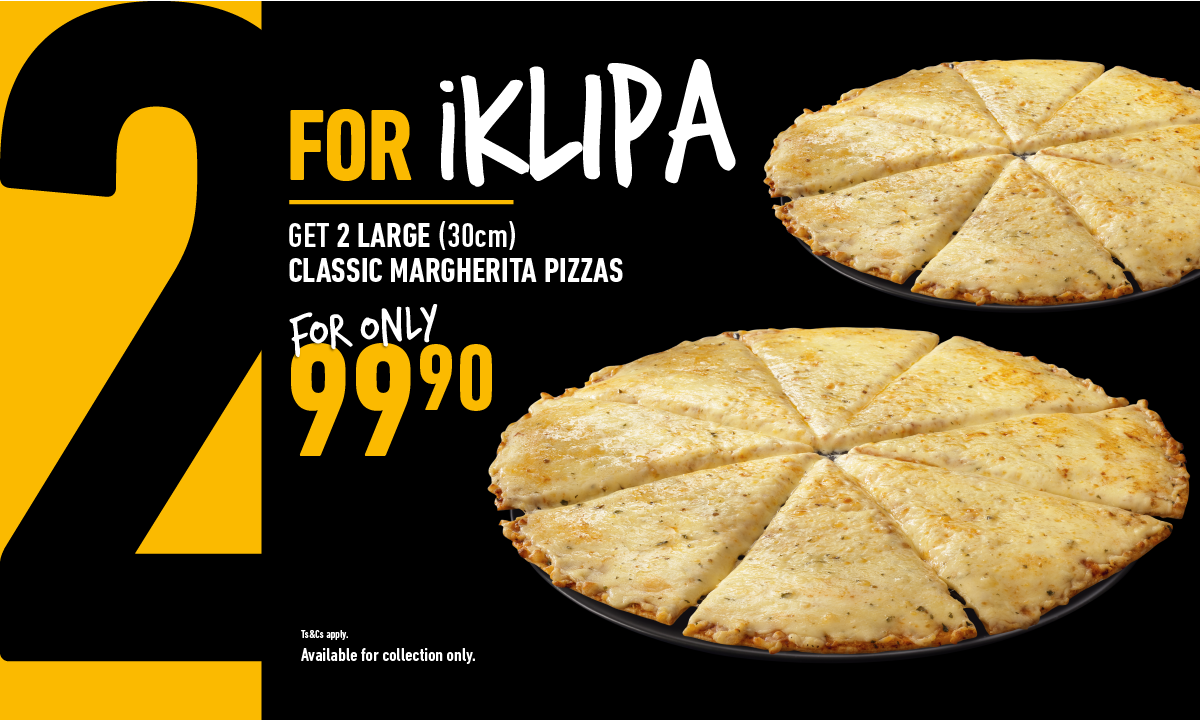 2 Large Margherita Pizzas Deal
Get an amazing value deal at a Debonairs Pizza near you. Get 2 large Classic Margherita pizzas for only R99.90. That's 2 pizzas for just iklipa! Available for counter orders and collection only.
About

Debonairs Pizza

Shell UC N2 Butterworth
Welcome to Debonairs Pizza Lusikisiki. The home of South Africa's favourite pizza. We're known for inventing the Triple-Decker® and the Crammed-Crust®, and we deliver it hot and fresh, because we don't want to be told off in 11 different languages. We were the first to bring you free delivery and online ordering and then there's the innovative Debonairs Pizza app that comes with driver tracking. We also give back to the community through Doughnation, where your extra pizza dough is made into flatbreads that feed people in need. Above all, we're known for our amazing pizzas. So, visit our website and try something amazing. Go O.T.T. with our over-the-top pizza special – the On The Triple®! Get 3 large pizzas for only R199.90! There are 6 amazing pizza flavours to choose from.
Nearby Debonairs Pizza Takeaways